The collective micro-optical research project, carried out in partnership between Microoled, Microlight3D and ENS Lyon with support from the Auvergne Rhône-Alpes region, aims to develop new micro-optical materials for augmented reality applications.
Grenoble – 9 March 2022 – Microoled, Microlight3D and the ENS Lyon are joining forces to develop new micro-optical materials for augmented reality applications. Supported by the Auvergne Rhône-Alpes region's "R&D Booster" call for projects, µFACET is a collaborative research project that aims to harness each participant's skills and pool their technological innovations to gain a dominant position in a growth market.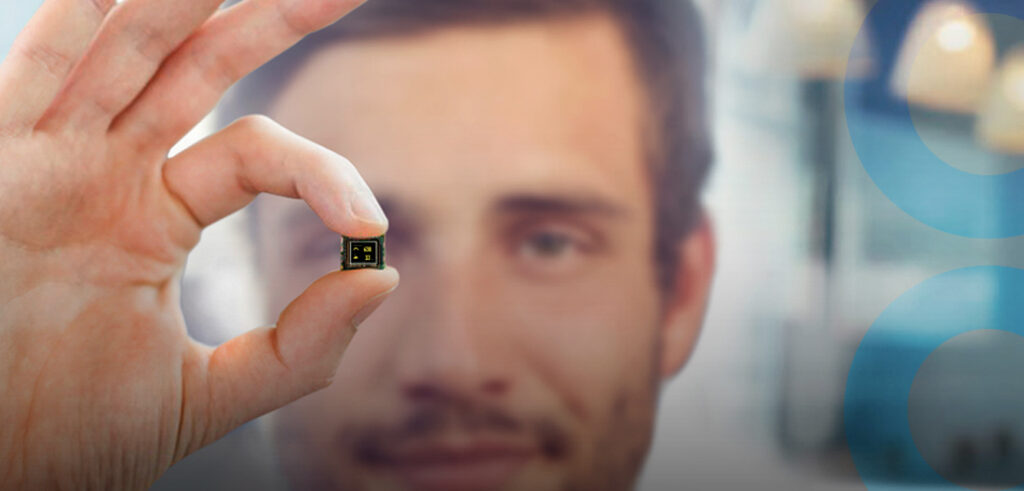 The SME Microoled – launched in Grenoble, in the heart of Tech Valley (Minatec Campus), in 2007 – specialises in high-resolution Oled micro-displays with very low energy consumption. The company has just passed the milestone of one million micro-displays sold and is positioned as the second-largest supplier in its field. Its screens are fitted for precision uses, such as market-leading cameras, precision binoculars and optical measuring devices.
This research project aims to support the development of Activelook, an augmented reality display technology dedicated to sports glasses.
A designer of complete optical systems, Microoled plans to step up innovation in order to improve this technology and enhance the miniaturisation of its optical module to allow lighter and more compact integration into glasses. The ultimate objective is to create a pair of glasses with an augmented display, validating the new optical concept. The project stands out for the complementarity between the three participants, due to their specific areas of expertise.
The Grenoble-based startup Microlight3D is developing a two-photon photopolymerisation (2PP) 3D printing technology for the manufacturing of micro-optical components, as 2PP is the only technology capable of producing complex and high-quality optical components. Applications in the field of micro-optics are already numerous and increasing all the time.
With this project, the ENS Lyon Chemistry Laboratory is extending its work on optical materials for photopolymerisation by expanding its expertise in optical parameters, not only in terms of the refractive index but also dispersion. The development of these materials is the technological component essential to achieving this project, which aims to develop complex optical components. This pooling of expertise will allow the iterative production of micro-lenses necessary for the design of a new type of optical module.
Eric Marcellin-Dibon, CEO & co-founder of Microoled, says, "This project is an opportunity to accelerate our respective innovations in a common approach of pooling resources and knowledge. The development of these new materials dedicated to micro-optics is strategic and will enable us to cement France's leadership in augmented reality."
About ActiveLook®
ActiveLook is the specialist augmented reality division of the French company Microoled, which manufactures high-resolution Oled micro displays with very low energy consumption. ActiveLook offers a compact module that can be integrated into eyewear and connected to a smartphone or smartwatch app to manage the data screened on the near-eye display. The system works in conjunction with the ActiveLook app, which is compatible with Garmin and other devices. This solution has already been adopted by sports eyewear manufacturers including Julbo, Engo Eyewear and Cosmo Connected.
https://www.activelook.net/
About Microlight3
Microlight3D was founded in 2016, following 15 years of research and development of its 3D microprinting technology at Grenoble Alpes University (UGA). The company has been continuously developing thanks to the sales of systems in laboratories and private research centres all around the world. In 2019, Microlight3D fully acquired Smart Force Technologies, a manufacturer of maskless lithography systems. https://www.microlight3d.com/
About the ENS Lyon Chemistry Laboratory
In the tradition of academic excellence of the Écoles Normales Supérieures (ENS), the ENS de Lyon is a major multidisciplinary school that trains for research through research. The ENS de Lyon develops leading research in exact sciences, as well as and the humanities and social sciences, with the 12 training departments working in close association with the 30 research structures. Although the primary vocation of the ENS de Lyon is the production and transmission of knowledge, developing "involved" research is also a core concern. Thus, ENS de Lyon offers a rich environment where the research administration services provide support to researcher by promoting their work withing the business community and encouraging the creation of companies. The ENS de Lyon is a founding member of the University of Lyon and has been ranked 9th in the world among universities of human dimensions by the Times Higher Education 2021. The Chemistry Laboratory is a joint research unit (UMR5182) operated by the CNRS, the École Normale Supérieure of Lyon and Université Claude Bernard Lyon 1. Created in 1987, it is located on the Monod campus of the École Normale Supérieure in Lyon.
The Chemistry Laboratory develops interdisciplinary research projects at the frontiers with biology, material sciences and physics. The lab staff cover a wide spectrum of expertise in synthetic chemistry (organic, inorganic, (nano)materials and forming), characterisation and advanced electronic spectroscopy, as well as high-resolution 3D printing. http://www.ens-lyon.fr/CHIMIE/laboratory/page-accueil